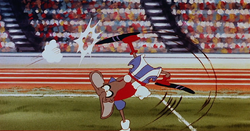 "I remember what my coach said; Ring his bell, that'll knock the wind out of his sail!"
-"Whiz" Rizzo
"Whiz" Rizzo is a character in Animalympics.
He is the antagonist of the film's "Soccer" segment.
Appearance
Rizzo is a rat with gray fur, light gray inner ears, and a whitish pink nose. His soccer kit consists of a red jersey shirt with blue sleeves, blue and white shorts, white gloves, black soccer cleats with blue straps, and red socks.
Personality
Rizzo, being an actual rat along with the term "rat" being used to describe a despicable person, is an unscrupulous soccer player who along with his teammates favor cheating tactics.
Background
"Whiz" Rizzo is the captain of the New York Rats, the soccer team which represents North America in the Animalympics. They competed against the European Hounds lead by team captain Rolf Shmecker. During the final period of the game, two of Rizzo's teammates trip Shmecker, allowing him to steal the ball. However, they were penalized, allowing Shmecker to score 1-0 against the Rats in a penalty kick.
He is seen again at the podium, where he sneakily swaps his bronze medal for Shmecker's gold medal while whistling not-so-innocently.
Trivia