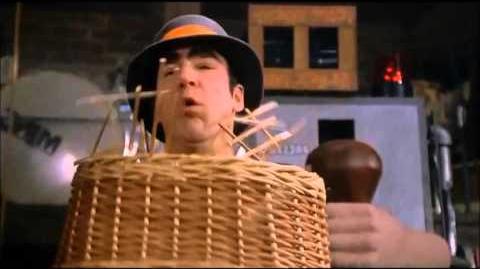 TheCartoonMan12's movie-spoofs of "101 Dalmatians".
Cast:
Pongo - Bugs Bunny (Looney Tunes)
Perdita - Lola Bunny (Space Jam/The Looney Tunes Show)
Cruella De Vil - Scarlet Overkill (Minions)
Roger Radcliffe - Flint Lockwood (Cloudy with a Chance of Meatballs 1 & 2)
Anita Radcliffe - Sam Sparks (Cloudy with a Chance of Meatballs 1 & 2)
Nanny - Giselle (Enchanted)
Jasper - Archibald Snatcher (The Boxtrolls)
Horace - Huxley (The Adventures of Elmo in Grouchland)
Lucky - E.B. (Hop)
Penny - Anais Watterson (The Amazing World of Gumball)
Rolly - Skippy Rabbit (Robin Hood)
Patch - Peter Rabbit (Peter Rabbit (2013))
Sergeant Tibbs - Surly (The Nut Job)
The Colonel - Garfield
The Captain - Scooby-Doo
Danny - Classified (Penguins of Madagascar (2014))
Scottie - Short Fuse (Penguins of Madagascar (2014))
Lucy - Maggie Pesky (The Buzz on Maggie)
Towser - Bing Bong (Inside Out)
Collie - Kermit The Frog (The Muppets)
Labrador - Bonkers D. Bobcat (Bonkers)
Queenie, Duchess and Princess - Twilight Sparkle, Rainbow Dash and Pinkie Pie (My Little Pony: Friendship is Magic)
Dalmatian Puppies - Various Bunnies
T.V. Announcer - Bert (Mary Poppins)
Community content is available under
CC-BY-SA
unless otherwise noted.