TheBluesRockz's movie-spoofs of "101 Dalmatians".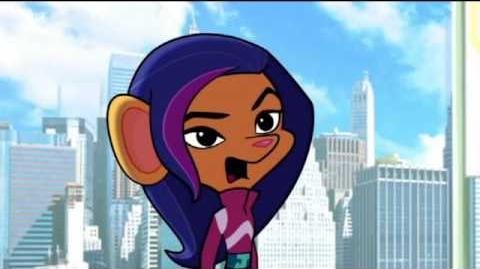 Cast:
Pongo - Danger Mouse
Perdita - Jeopardy Mouse (Danger Mouse)
Cruella De Vil - The Queen of Hearts (Alice in Wonderland)
Roger Radcliffe - Gru (Despicable Me)
Anita Radcliffe - Lucy Wilde (Despicable Me 2)
Nanny - Belle (Beauty and the Beast)
Jasper - The Ringmaster (Dumbo)
Horace - Eddy (Ed Edd 'n' Eddy)
Lucky - Tip the Mouse
Penny - Giselle (A Tale of Tooth Fairies)
Rolly - Scrappy Mouse (Mighty Mouse)
Patch - Sniffles the Mouse (Looney Tunes)
Sergeant Tibbs - E.B. (Hop)
The Colonel - The Walrus (Alice in Wonderland)
The Captain - Baymax (Big Hero 6)
Danny - Hunter (Storks)
Scottie - Caillou
Lucy - Tinkerbell (Peter Pan)
Towser - Scrooge McDuck (DuckTales)
Collie - Jiminy Cricket (Pinocchio)
Labrador - Timothy Q. Mouse (Dumbo)
Queenie, Duchess and Princess - Lola Bunny (Space Jam/The Looney Tunes Show), Yin (Yin Yang Yo!) and Judy Hopps (Zootopia)
Dalmatian Puppies - Various Mices
T.V. Announcer - Flint Lockwood (Cloudy with a Chance of Meatballs 1 & 2)
Thunderbolt - Danny (Cats Don't Dance)
Dirty Dawson - Shere Khan (The Jungle Book)
Community content is available under
CC-BY-SA
unless otherwise noted.