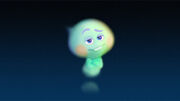 22 is the deuteragonist of Disney/Pixar's 2020 animated feature film, Soul. After Joe accidentally went into the Great Before, he seeks help from 22 to get him back to his body before it's too late.
Background
Official Description
22 (the 22nd soul ever created) is a precocious soul who has spent hundreds of years at The You Seminar, where new souls must meet several requirements before going to Earth. Like every soul before her, 22 has been through the Personality Pavilions, which explains her endearing sarcasm, quick wit and occasional moodiness. She's met every requirement to go to Earth—except one. But no matter how many visits she makes to the Hall of Everything, no matter how many esteemed luminaries have mentored her, she can't find the spark she needs to fulfill her requirements and make her way to Earth. That's fine with 22; the truth is—she's not interested in life on Earth at all.
The only thing known about 22 is that she has spent eons in the Great Before, and the amount of years she spent there resulted in her dim view of life on the Land of the Living.
Personality
22 is a soul that views Earth as a dim life. She doesn't like the way it is, but when Joe comes along, her views begin to change.
Physical appearance
22's body is shaped like a light bulb. She is light aqua with faded pink cheeks, purple eyes and eyebrows, a buck tooth in her mouth, a tuft of hair, and no legs. However, she is able to form legs whenever she wants, as seen when dancing and running.
As a Lost Soul, she still looks the same, but in navy and her eyes along her mouth become cyan, giving her a glowing dark scary ghost like appearance.
Gallery