Two is the second of his siblings, and can sometimes stick his nose where it doesn't belong but he cares for his brothers and sisters. He is the only monster in his family with a long nose.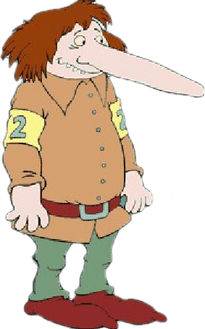 About Him
Two is voiced by Colin Mochrie, the husband of Debra McGrath who voiced Mama. Mochrie was best known for his role in Whose Line Is it Anyway? Colin Mochrie also plays Bud Chuckles and Oscar in George and Martha. In the UK version, he is voiced by Martin Clunes. He will be voiced by Jason Bateman in the upcoming CGI animated film.
He is a Monster
He is a Lobster
Appearance
Two is a tengu-like monster and has a long nose and can smell things from far away. He has brown hair and, like his brother Seven, has white, furless skin, save for the hair on their heads. Two wears a brown long sleeved shirt with buttons and the number 2 on the sleeves, along with green pants and brown slipper-like shoes.
Personality
Although Two is a helpful monster and uses his nose to lift his mother up to reach high places; he can be troublesome at times. His mother would tell him that he looks like his father even though his father is barely in the show and is never seen.
In "Nightmare on Chestnut Street", it is revealed that Two's greatest fear is that when he doesn't have a nose at all.
Trivia
His and the other monsters' appearances in the Stephen Squirrelsky and Friends' Movie Spoof Travels are Cub and Company, Hoodwinked!, Beauty and the Grizzly Bear, The Rescuers, Nikki's Adventures of Sing Along Songs Episode 4, The Rescuers Down Under, The Secret of NIMH, Nikki's Adventures of Sing Along Songs Episode 6, The Little Mer-Lioness 2: Return to the Sea, Skunkules, Home on the Range, Kermit's Winter Wonderland, The Little Jungle Boy, Kermiladdin 2: The Return of McLeach, AiAi the Monkey and A Day for George, The Reindeer and the Deer, Animal Story 2, AiAi the Monkey's Grand Adventure: The Search for Tails, A Cartoon Character's Life, Nikki's Adventures of Sing Along Songs Episode 7, Here Comes Winnie the Pooh, Animals, Inc, Simba 2, Miss Bianca and the Bernard 2: Fievel's Adventure, FernGully: The Last Rainforest, A Pooh in Central Park, Bubblesrella 2: Dreams Come True, The Brave Little Piglet, Kung Fu Owen, Nikki's Adventures of Sing Along Songs Episode 8, The Thomas O'Malley Movie, Kermit Returns, Fievel the Red Nosed Mouse and The Island of Misfits, Nikki's Adventures of Sing Along Songs Episode 9, Cloudy with a Chance of Meatballs, Finding Alvin, Animated Tale, The Forest Book 2, Nikki's Adventures of Sing Along Songs Episode 10, Madagascar, Sleeping Beauty, Aurorastasia, Despicable Me (Justin Quintanilla's Style), and We're Back!: A Jungle Animal's Story and will even be in more movie spoof travels.
Community content is available under
CC-BY-SA
unless otherwise noted.