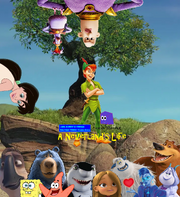 a spoof A Bug's Life.
Cast
Flik - Peter Pan
Atta - Melody (The Little Mermaid 2: Return to The Sea)
Dot - Little Mariah (All I Want for Christmas Is You)
Queen - Queen Clarion (Disney Fairies)
Alphie - Hognob (Early Man)
Dot's 2 Boyfriends - Lucas Nickle (The Ant Bully) and Russel (Up)
Mr. Soil - Crank Casey (Robots)
Dr. Flora - Jewel (Rio)
Thorny - Gene (The Emoji Movie)
Cornelius - Lord Milori (Disney Fairies)
Hopper - Lord Nooth (Early Man)
Molt - Snowball (The Secret Life Of Pets)
Thumper - Bela (Hotel Transylvania 2)
Axel and Loco - Spike and Whitey (Flushed Away)
P.T. Flea - Spamley (Ralph Breaks the Internet)
Francis - Peng (Duck Duck Goose)
Slim - Boog (Open Season)
Heimlich - Boomer (Wonder Park)
Dim - Lenny (Shark Tale)
Gypsy - Meechee (Smallfoot)
Manny - Migo (Smallfoot)
Rosie - Yesss (Ralph Breaks the Internet)
Tuck and Roll - Spongebob Squarepants and Patrick Star
The Fly Brothers - Jerry and Jimmy Gourd (Veggietales)
Thud the Big Fly - Goliath (VeggieTales: Dave and the Giant Pickle (1996))
The Bird - Nyra (Legend of the Guardians: The Owls of Ga'Hoole)
Gallery
Community content is available under
CC-BY-SA
unless otherwise noted.