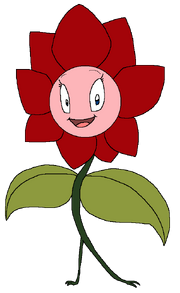 Abrielle is a carnation flower in Riley's Adventures. She is making her first debut in the episode A Sea Travel.
Voice Actors:
Anndi McAfee

 - English
Emi Shinohara - Japanese
Ana Maria Mari - European Spanish
Maria Fernanda Morales - Latin Spanish
Sylvie Jacob - European French
??? - Canadian French
Veronika Neugebauer - German
Alessandra Karpoff - Italian
Cristina Cavalinhos - European Portuguese
Tatiane Keplmair - Brazilian Portuguese
Lena Ericsson - Swedish

Iwona Rulewicz

- Polish
Appearance:
Tall rose with a pink face and green leaves.
Personality:
Gallery: