Adagio is one of Tyler Klause's Best Friends He Even Protects Him and Helps Him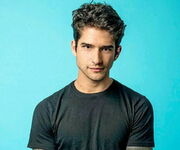 Out they even Goof Around and He is a son of Bodi and Darma, Older Brother of Brodi, Uncle of Cassie, Husband of Claudette and Father of Joey
Voice Actors
Koji Seto (Japanese)
Greg Cipes (Singing Voice)
Live Action Actors
Gallery
Quotes
"I don't wanna be a human!"
"For Truths, Light and Justice."
"Together we are the Freedom Squad,"
"We are the Omega Racers!"
"Cassie, Uncle Adagio's gonna take care of you."
"Oh Tyler Hey S'up".
"Claudette, I love you."
"So What Are We Waiting For puts helmet on Let's Race"!
"Tyler Ok We Get It."
"Come and get your love."
"Tyler! Im Coming Buddy!"
"Mom, Dad can I go see Claudette?"
"Mommy, Daddy can I play with my toy puppy?"
"Let's Go Guys"!
"Just Calm Down Tyler Calm Down".
"Aunt Vix, I like to protect you".
"Hey Tyler How's it Going?"
Likes
Rock music
Cool weather
Spicy food
Taking care of niece, Cassie.
Protecting his son, Joey for safety
Being a Omega Racer
His parents telling stories
Protecting the world (Currently)
Fighting enemies
Seeing others happy
Becoming a guitarist what he dreamed to be
Playing with his favorite toy, Love to Play Plush Puppy Dog (When he was a pup)
Being Friends with Tyler
Dislikes
Traffic
Aggression
Early working
Viruses
The Supervisor from Mars Needs Moms
Kidnappers
Child Abusers (When he conquered his fears)
Linnux
Trey
Seeing others sad
Being human
Inspiration
Connor Kent/Superboy (Young Justice)
Jayden Shiba (Power Rangers Samurai/Power Rangers Super Samurai)
Sub-Zero (Mortal Kombat)
Ben Tennyson (Ben 10)
Luke Skywalker (Star Wars)
Peter Parker/Spider-Man
Sean Baker/Guyver (The Guyver)
Vert Wheeler (Hot Wheels Battle Force 5)
Sento Kiyru/Kamen Rider Build
Ultraman Geed
Josh Baldwin/White Blaster Beetleborg (Big Bad Beetleborgs)
Sean Baker/Guyver
Grey (Sheep & Wolves)
Benjamin Cooper (Sly Cooper)
Family
Khampa (Grandfather)
Khari (Grandmother)
Bodi (Father)
Darma (Mother)
Brodi (Younger Brother)
Tod (Youngest Brother)
Astro (Sister-In-Law)
Cassie (Niece)
Claudette (Wife)
Humphrey (Father-In-Law)
Kate (Mother-In-Law)
Stinky (Brother-In-Law)
Runt (Brother-In-Law)
Joey (Son)
Friends
Tyler Klause (Best Friend)
He is the main deuteragonist and the musician nicknamed Pizza Lord
Songs Performed
Community content is available under
CC-BY-SA
unless otherwise noted.