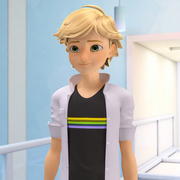 Adrien Agreste (aka Cat Noir) is the deuteragonist of Miraculous: Tales of Ladybug & Cat Noir. He is a student at Collège Françoise Dupontand a fashion model. With his magical ring, inhabited by a kwami named Plagg, he has the power of bad luck and can transform into the superhero Cat Noir (Chat Noir in the French version). He later gets akumatized into Cat Blanc (Chat Blanc in the French version).
Adrien Agreste played Human Shrek in Rex (Shrek) series
Trivia
He is the first person to only be aumatized in an alternate reality.
His responsibilities as a superhero not only include fighting akumatized villains, but also patrolling among many other things.
Cat Noir's legacy is as old as ancient China, as revealed in "Volpina".
Adrien is the only member of

Miss Bustier

's class or French Miraculous Superhero Team that wasn't akumatized in the permanent timeline.
Cat Noir has been turned evil several times so far, having fallen under the influence of

Dark Cupid

's hate arrows, ending up under the control of

The Puppeteer

, being affected by Princess Fragrance's perfume, becoming controlled by

Despair Bear

, then being affected by Zombizou's kiss and lastly being affected by

Malediktator

's declaration bubbles.
As he says in "Pixelator", he got to go to his first concert.
In the French version of "Copycat", Cat Noir calls Ladybug "Buginette" (in French, adding "-nette" to the end of a word is a way of showing affection). In the English version, he calls her "Bugaboo."
The French name "Adrien" comes from the Roman cognomen "Hadrianus," which means "from Hadria." In the days of the Roman Empire, Hadria was a town in northern Italy and the namesake of the Adriatic Sea. The Adriatic Sea is known for the dark-colored sand on its beaches, and for this reason, the name is also commonly translated as "dark one."

His last name, "Agreste," means "rural" in French. It is also the French name for the grayling butterfly. Hence, his full name may be taken as meaning "dark butterfly".

The name "Chat Noir" is French for "Black Cat". Some sources have called him "Black Cat" instead of Chat Noir or Cat Noir.
Aspik's name is a version of aspic, the French word for "asp," an archaic name for venomous snakes that inhabited the Nile region that is now believed to refer to the Egyptian cobra.
Adrien is the second male to wield the Ladybug Miraculous as Mister Bug, contrasting to Marinette, who is the first female to wield the Cat Miraculous as Lady Noir.
In "Copycat", Adrien's phone number is shown to be +33635124.
Adrien doesn't appear to have as many issues juggling his normal life with his superhero work as Marinette does. However, he does struggle on occasion, as seen in "Princess Fragrance" when he misses his chemistry class, in "Simon Says" and "Gorizilla", where he had to be in two places at the same time, and in "Backwarder" where he had to hurry back to the train before his father noticed he was gone.

This might be because Nathalie arranges most of his activities (extra studying, photo shoots, fencing, Chinese and piano lessons, etc), unlike Ladybug who arranges her things alone, but it is still suffocated.
Gallery