(Adult) Tod is the titular protagonist in Walt Disney's 24th animated classic, The Fox and the Hound and in its 2006 less successful 2006 direct-to-video midquel. He is the son of his late ill-fated mother, Vixey's husband, the former arch-nemesis of Amos Slade and Chief, the friend of Dinky, Boomer, and Big Mama, Widow Tweed's ex-pet, and Copper's best friend despite the two being natural enemies. In the film, he has been voiced by the late legendary Mickey Rooney.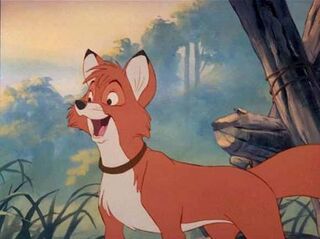 He Played King Xerxes in One Night With The Fox
He is the king of ancient Persia
He is a superhero
He played Scallion 3 in FunnyTales
He is a short scallion.
He is a Tiger
He is a Street rat
He is an earthbender
He is a Prince
He Played Robin Hood In Tod Hood
He is a Fox
He Played Itchy Itchford in

All Animals Go To Heaven 1

&

2
He is a Daschund dog
He Played Prince Charming in

Vixeyrella
He is a Prince
He Played Garrett in Quest for the Farthing Wood
He is a Blind Warrior
He is Jane's Father
He Played Anakin Skywalker in 

Star Wars (Youknowhatmoviesucks Style)
He is a Jedi
He is a Lion
He Played Balto in Todto
He is a sled dog
He is a Talking Llama
He Played Dudley Puppy In T.U.F.F Fox
He is a Spy Dog
He is a Scared Dog
He is a Macaw
He is a Clownfish
He is a beast
He is a Prince
He played Radio in the Brave Little Puppy
he is a radio
he is a railboat
He is a lion
He is a gorilla
He is a Bagel
As Genie in

Copperladdin
He is a Genie
He is a superhero.
Portayals
In The Mouse and the Duck - He is played by Mickey Mouse
In The Wolf and the Lion - he is played by Balto
In The Chinese and the Russian - he is played by Li Shang
In The Cat & The Chicken - He is played by WALL-E
In The Junk Cat and the Solider Cat - He is played by Riff Raff (Heathcliff and the Catillac Cats)
Gallery: