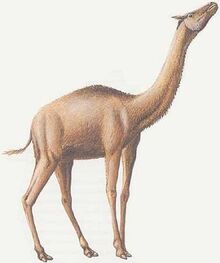 Aepycamelus is an extinct genus of camelid, formerly called Alticamelus, which lived during the Miocene 20.6–4.9 million years ago, existing for about 15.7 million years. Aepycamelus walked on its toes only. Unlike earlier species of camelids, they possessed cushioned pads like those of modern camels.
See Also
Gallery
Community content is available under
CC-BY-SA
unless otherwise noted.