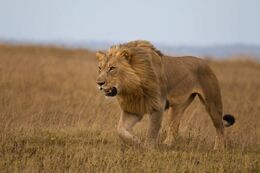 The African lion (Panthera leo leo) is currently the nominate subspecies of lion, native to sub-Saharan Africa. They often referred to as the Barbary Lion, Cape Lion, Congo Lion, Katanga Lion, Masai Lion, Transvaal Lion and West African Lion. Unlike the Asiatic Lion, African lions form larger prides.
Roles
It played Grizzly Bear in Brother Lion (NatureRules1 Version), Alpha and Omega (Samwei1234 Version), Open Season (NatureRules1 Version), and Alpha and Omega (NatureRules1 Version) (Version 2)
It played Smilodon fatalis in North American Age series
They played Butch, Nash, and Ramsey in The Good Zebra
It played Rex in We're Back! An African Animal's Story (Samwei1234 Version) and We're Back!: A Jungle Mammal's Story (NatureRules1 Version)
They played Tarzan, Jane, Professor Porter, Clayton, and Tarzan's Parents in Tarzan (NatureRules1 Version)
It played Sulley in Carnivorans, Inc.
It played Tyrannosaurus in Walking With Animals
They played Frog Hunters in The Doe and the Puffball (Version 2)
It played Polar Bear in Norm of the North (NatureRules1 and Samwei1234 Version)
They played Toothless and Light Fury in How to Train Your Felid, How to Train Your Felid 2, and How to Train Your Felid: The Hidden World
It played Notebook in African Animal Mayhem
It played Nigel Uno/Numbuh 1 in Codename: Carnivorans Next Door
It played Little John in Robin Hood (Samwei1234 Version)
It played Anglerfish in Finding Nemo (Land animal style) 
Portrayals
Gallery
Also See
Community content is available under
CC-BY-SA
unless otherwise noted.