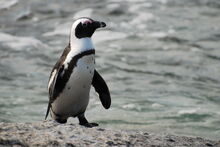 The African penguin (Spheniscus demersus) is a medium-sized penguin, and the only penguin species breeding on the African continent. Like all penguins, the African penguin has a robust, heavyset body, and this species is black on the back and white below, with variable black markings on the breast and belly. Juvenile African penguins are slate blue on the upper surface, gradually turning darker and developing the adult black-and-white facial pattern in the second or third year. Penguins have small muscles at the base of each feather that enable the feathers to be held tightly against the body whilst in water, forming a waterproof layer; alternatively, on land the feathers are held erect, trapping an insulating layer of air around the body. The African penguin is also known as the 'jackass penguin' due to its loud, braying call.
Roles
Gallery
Books
Community content is available under
CC-BY-SA
unless otherwise noted.