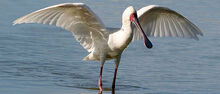 The African spoonbill (Platalea alba) is a long-legged wading bird of the ibis and spoonbill family Threskiornithidae. The species is widespread across Africa and Madagascar, including Botswana, Kenya, Mozambique, Namibia, South Africa, and Zimbabwe. It lives in marshy wetlands with some open shallow water and nests in colonies in trees or reedbeds. They usually don't share colonies with storks or herons. The African spoonbill feeds in shallow water, and fishes for various fish, mollusks, amphibians, crustaceans, insects, and larvae. The animal uses its open bill to catch foods by swinging it from side-to-side in the water, which catches foods in its mouth. Long legs and thin, pointed toes enable it to walk easily through varying depths of water.
Roles
Gallery
Community content is available under
CC-BY-SA
unless otherwise noted.