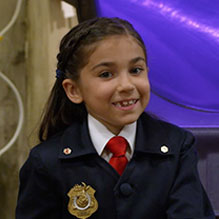 Agent Orchid is one of the younger agents in Odd Squad. She tends to be extremely stubborn, and loves dinosaurs, cuddling, and giving disappointing looks. She is also 7 years old. Her partner is Agent Ohlm in Season 2.
Quotes
"I find that very underwhelming."
"Dinosaurs crossing."
"If you asked me that BEFORE I met Sherman, I would have told you I needed EVERYTHING! But now, I don't need a thing!"
"I'm less about material objects, and more about experiences."
"Yeah, I'm just going to call you Sherman."
Appearances
Season 1
Picture Day
The Trouble with Centigurps
Invasion of the Body-Switchers
6:00 to 6:05
Jinx
Trading Places
Captain Fun
Switch Your Partner Round and Round
Oscar the Couch
No Ifs, Ands, or Robots
Worst First Day Ever
Not So Splash
Moustache Confidential
O is Not for Over
Season 2
First Day
Back to the Past
Odd Squad Needs You
Oscar Strikes Back
The Creature Whisperer
Extreme Cakeover
Drop Gadget Repeat
Rookie Night
Trivia
She has been working on the squad for five years.
She tends to call people, things, and places 'Sherman'.
She likes Blobs and Centigurps.
She builds very good sand castles, as seen in her agent interview.
She has been working on the squad since she was 2 years old.
Gallery
Community content is available under
CC-BY-SA
unless otherwise noted.