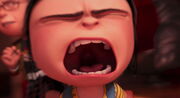 These Are The Characters that Agnes kills lol. 
Boog (Open Season)
Clumsy Smurf (Smurfs The Lost Village)
Patrick Star (The Spongebob Squarepants Movie)
Dennis (Hotel Transilvania 2)
Felicie and Victor (Leap!)
Emmet (The LEGO Movie)
Mr. Peabody And Sherman
Hunter (Storks)
Manny Sid and Diego (Ice Age)
Carface (All Dogs In Heaven)
The Farmer (Shaun The Sheep The Movie)
Metal Beard (The LEGO Movie)
Kate and Humphrey (Alpha and Omega)
Frieda and Mambo (Happily Never After)
Police Officers Patty and Paul and Grunion (Mr. Peabody and Sherman)
Bad Cop (The LEGO Movie)
DJ Walters (Monster House)
Gasket and Ratchet (Robots)
Tom (Talking Tom And Friends Happy App-Loween)
Mufasa (The Lion King)
Vitruvius (The LEGO Movie)
Ratso and Westley (The Ugly Duckling and Me!)
Golf Ball (BFDI)
Winx Club Group (Winx Club: The Secret of The Lost Kingdom)
Mighty Eagle (The Angry Birds Movie)
Gene Jailbreak and Hi-5 (The Emoji Movie)
Gallery
Community content is available under
CC-BY-SA
unless otherwise noted.