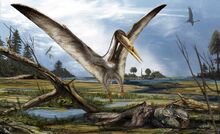 Alanqa is a genus of pterosaur from the Late Cretaceous Kem Kem Beds (which date to the late Albian or Cenomanian age) of southeastern Morocco.
The name Alanqa comes from the Arabic word العنقاء al-'anqā', for a Phoenix similar to the Simurgh of Persian mythology.[1]
Gallery:
Community content is available under
CC-BY-SA
unless otherwise noted.