Alex is a supporting character in the 2017 wartime suspense drama film Dunkirk. He is one of the British soldiers trying to escape from the enemies. He is played by Harry Styles.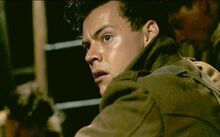 Personality
Warning: May contain spoilers
At first, he turns out to be a normal, harmless, and friendly soldier, but he is very suspicious about a quiet and shy soldier named Gibson, thinking he was a spy. Later on, Alex became more suspicious, frustrated, short-tempered, and antagonistic, but by the end of the film, he felt ashamed of himself for being too antagonistic, and his personality turns back to normal.
Counterparts
Flippy (Happy Tree Friends, both are very brave soldiers and are easily angered)
Fliqpy (Happy Tree Friends, both are very brave soldiers and are easily angered, but Fliqpy is evil, while Alex is good)
Gian/Big G (Doraemon, both are short-tempered and are frenemies with Nobita/Noby and Gibson)
Mr. Nervous (The Mr. Men Show, both are nervous. Although, Mr. Nervous is more nervous than Alex)
Doraemon (Doraemon, both panic in fear and get easily angered. Although, both Doraemon and Alex are very brave)
Bloo (Fosters Home for Imaginary Friends, both panic in fear, are easily angered, selfish, and are frenemies with Coco and Gibson)
Cartman (South Park, both are aggorant, short-tempered, selfish, and are frenemies with Kyle and Gibson)
Ren (The Ren and Stimpy Show, both panic in fear, are easily angered, aggorant, and are frenemies with Stimpy and Gibson)
Frankie (Foster's Home for Imaginary Friends, both are short-tempered, but are very good)
Anger (Inside Out, both are short-tempered)
Red (Angry Birds, both are short-tempered)
Wilf (Postman Pat: the Movie, both are aggorant, selfish, short-tempered, and are frenemies with Postman Pat and Gibson. They also both feel ashamed for what they had done at the end)
Buck Douglas (Fireman Sam: Alien Alert, both are attractive and good. They also felt ashamed for what they had done at the end)