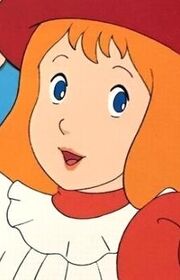 Alice is the nauseatingly adorable, sugary sweet, very attractive, and unbearably beautiful 12-year-old minor character from the Paramount's 2020 animated film, Alice in Wonderland, in order to promote the recent Tim Burton version. She also appears in Fushigi no Kuni no Alice.
Voice Actors
Hynden Walch - English
Eleonora Prado - Brazilian Portuguese
Isabel Ribas - European Portuguese
Úrsula Cobucci - Venezuelan Spanish
Madeleine Stolze - German
Tarako - Japanese
Gallery
Community content is available under
CC-BY-SA
unless otherwise noted.