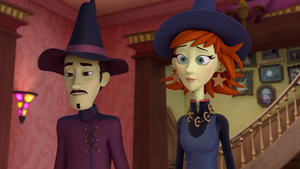 Alice and Desmond Ravenson are witches who appear in the Disney Junior animated series, Vampirina. They are Phoebe Ravenson's parents, who are national heroes of Transylvania for saving an entire town from an attack of haunted weeds.
Background
Physical appearance
Alice has similar looks to her daughter Phoebe with her orange hair color and pointy nose, while Desmond has black hair with a mustache and goatee. Both are tall and slender with pale green skin, and wear traditional witch clothing.
Desmond appears to be a warlock.
As squirrels, Alice has orange fur and Desmond has brown fur, while both retain their hats.
Portrayals