TheCartoonMan12's TV Spoof of "Dora The Explorer".
Cast
and lots more!
Alisa's Top 10 Best Friends List
Transcript
Narrator: She may be a smart ZOOMer girl, but is now exploring all over the world. Yes, It's Alisa The Explorer . Coming Soon. Hi Alisa Besher . Play, Laugh and Learn. With Alisa The Explorer . Coming Soon To TV. And help her save the day in a host of educational adventures. You'll have lots of help on the way. From Spot the Dog, Spongebob Squarepants, Stephanie Tanner, Kipper and Alisa's special friends, The Explorer Creatures. Better watch out for that sneaky guy, Shere Khan . Now you can join Alisa Besher whenever you like to. And share with her new exciting adventures again and again. So come and explore with Alisa Besher. Coming Soon To TV.
List of Alisa The Explorer episodes
SEASON 1
The Flying Rooster
Lost and Found
Hic! Boom! Ohhh...
Beaches
We All Scream for Ice Cream
Choo Choo
Treasure Island
Three Lil' Piggies
Big River
Berry Hunt
Tails Wishes
Grandma's House
Surprise!
Sticky Tape
Bouncing Ball
Master Viper
Fish Out of Water
Bugga Bugga
Little Star
Dora Saves the Prince
El Coquí
The Chocolate Tree
Te Amo
Tyrone's Flute
Call Me 'Mr. Riddles'
To The Treehouse
SEASON 2
The Big Storm
¡Rápido, Kipper!
The Magic Stick
The Missing Piece
Lost Squeaky
Reven Even the Firetruck
Lost Chanticleer
El Dia de Las Madres
The Golden Explorers
A Present for King Triton
Doctor Alisa
Buck, the Pony Express
Adult Simba, the Circus Lion
The Big Piñata
Grumpy Bear the crazy Care Bear
Super Chanticleer
A Letter for Shere Khan
To the Monkey Bars
Alisa, la Musico
Hide and Go Seek
CLICK!
Egg Hunt
Super Spies
School Pet
Whose Birthday is It?
Quack! Quack!
SEASON 3
Alisa Had a Little Lamb
Stuck Truck
Louder
Roberto the Parrot
The Big Potato
Journey to the Red Planet
The Lost City
Meet David!
Save the Monkeys
¡Por Favor!
Baby Jaguar
Spot's Special Day
To the South Pole
Alisa Saves the Wing Ceremony
Boo!
What Happens Next?
Rescue, Rescue, Rescue!
Spot's Cuddly Dinosaur
The Super Silly Fiesta
The Fix It Machine
Baseball Spot
Best Friends
ABC Animals
Job Day
Alisa's Pirate Adventure
SEASON 4
Pokemon Catcher
Alisa's First Trip
Pokemon Mountain
Super Spies 2: The Swiping Machine
Princess Zelda's Dragon Day
Bambi, Thumper and Flower's Roar
A Crown for King
Alisa's Got a Puppy
Big Sister Alisa
Spot to the Rescue
Super Characters
We're A Team
The Shy Rainbow
Mixed-Up Seasons
Baby Crab
Catch The Characters
Alisa and David to the Rescue
Alisa's Fairytale Adventure (double length)
Shere Khan the Explorer
Save David
SEASON 5
SEASON 6
SEASON 7
SEASON 8 (Last Season)
History Title Cards
Video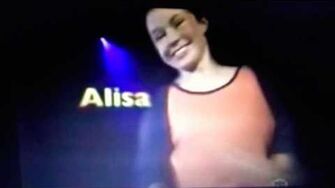 Gallery
Videography
Title
Promos/Episodes
Release Date
Alis the Explorer: Swing Into Action
Sticky Tape

Berry Hunt

June 5, 2001
Alisa the Explorer: Wish on a Star
Little Star

Tails Wishes

June 5, 2001
Alisa the Explorer: To the Rescue
Three Little Piggies

Lost and Found

August 21, 2001
Alisa the Explorer: Alisa Saves the Prince
Alisa Saves the Prince

El Coqui

February 5, 2002
Alisa the Explorer: Alisa's Master Viper (Backpack) Adventure
Master Viper

Big River

May 28, 2002
Alisa the Explorer: Christmas!
A Present For King Triton

Rapido, Kipper!

September 24, 2002

October 26, 2004

Alisa the Explorer: Move to the Music
Alisa, La Musico

Tyrone's Flute

November 5, 2002
Alisa the Explorer: Chanticleer Adventures
Lost Chanticleer

Super Chanticleer

February 4, 2003
Alisa the Explorer: Cowgirl Alisa
Buck, the Pony Express

A Letter For Shere Khan

April 22, 2003
Alisa the Explorer: City of Lost Toys
The Lost City

Lost Squeaky

June 3, 2003
Alisa the Explorer: Rhymes and Riddles
Alisa Had a Little Lamb

Call Me, Mr. Riddles

August 26, 2003
Alisa the Explorer: Meet David!
Meet David!

To the South Pole

October 7, 2003
Alisa the Explorer: Pirate Adventure
Alisa's Pirate Adventure (Double Length)
January 27, 2004
Alisa the Explorer: Egg Hunt
Egg Hunt

El Dia De La Madres

March 2, 2004
Alisa the Explorer: Super Silly Fiesta!
Super Silly Fiesta!

Spot's Special Day

July 11, 2004
Alisa the Explorer: Alisa's Halloween
Boo!

The Missing Piece

August 31, 2004
Alisa the Explorer: Fairytale Adventure
Alisa's Fairytale Adventure (Double Length)
October 11, 2004
Alisa the Explorer: Catch the Pokemon
Pokemon Catcher

Pokemon Mountain

January 11, 2005
Alisa the Explorer: Big Sister Alisa
Big Sister Alisa

Alisa Saves the Wing Ceremony

March 22, 2005
Alisa the Explorer: It's A Party!
Princess Zelda's Dragon Day

The Big Piñata

May 3, 2005
Alisa the Explorer: Super Babies
Super Characters

Catch the Characters

July 19, 2005
Alisa the Explorer: Dance to the Rescue
Alisa's Dance to the Rescue (Double Length)
October 11, 2005
Alisa the Explorer: Save the Day!
Alisa and David to the Rescue!

Shere Khan the Explorer

January 10, 2006
Alisa the Explorer: Alisa's First Trip
Alisa's First Trip

Best Friends

April 11, 2006
Alisa the Explorer: Animal Adventures
Save David

Thumper's Roar

June 13, 2006
Alisa the Explorer: We're A Team!
We're a Team

Baseball Spot

August 15, 2006
Alisa the Explorer: World Adventure!
Alisa's World Adventure (Double Length)
October 10, 2006
Title
Episodes
Release Date
Alisa the Explorer: Map Adventures
Lost Chanticleer
Super Chanticleer
Three Little Piggies
Lost and Found
February 4, 2003
Alisa the Explorer: City of Lost Toys
The Lost City
Lost Squeaky
Sticky Tape
Berry Hunt
June 3, 2003
Alisa the Explorer: Rhymes and Riddles

Alisa Had a Little Lamb

Call Me Mr. Riddles

Master Viper

Big River

August 26, 2003
Alisa the Explorer: Meet Diego!

Meet David

To the South Pole

Little Star

Tails Wishes

October 7, 2003
Alisa the Explorer: Pirate Adventure

Alisa's Pirate Adventure (double length)

Alisa Saves the Prince

El Coqui

January 27, 2004
Alisa the Explorer: Egg Hunt

Egg Hunt

El Dia De La Madres

Alisa, La Musico

Tyrone's Flute

March 2, 2004
Alisa the Explorer: Super Silly Fiesta!

Super Silly Fiesta!

Boots's Special Day

Stuck Truck

The Big Potato

July 11, 2004
Alisa the Explorer: Dora's Halloween

Boo!

The Missing Piece

To the Monkey Bars

The Big Storm

August 31, 2004
Alisa the Explorer: Fairytale Adventure

Alisa's Fairytale Adventure (double length)

What Happens Next?

The Magic Stick

October 5, 2004
Alisa the Explorer: Dora's Christmas!

A Present for King Triton

Rapido, Kipper!

Quack! Quack!

School Pet

October 19, 2004
Alisa the Explorer: Catch the Stars

Pokemon Catcher

Pokemon Mountain

Louder

Hide and Go Seek

January 11, 2005
Alisa the Explorer: Big Sister Dora

Big Sister Alisa

Alisa Saves the Wing Ceremony

Job Day

A Letter for Shere Khan

March 22, 2005
Alisa the Explorer: It's A Party!

Princess Zelda's,Dragon Day

The Big Piñata

Surprise

The Fix-It Machine

May 3, 2005
Alisa the Explorer: Super Babies

Super Dinosaurs

Catch the Dinosaurs

Baby Jaguar

Por Favor

July 19, 2005
Alisa the Explorer: Dance to the Rescue

Alisa's Dance to the Rescue (double length)

Rescue, Rescue, Rescue!

Adult Simba the Circus Lion

October 11, 2005
Alisa the Explorer: Save the Day!

Alisa and David to the Rescue!

Shere Khan the Explorer

Spot's Cuddly Dinosaur

Roberto the Parrot

January 10, 2006
Alisa the Explorer: Dora's First Trip

Alisa's First Trip

Best Friends

Chocolate Tree

Tree House

April 11, 2006
Alisa the Explorer: Animal Adventures

Save David

Baby Thumper's Roar

Click!

Hic-Boom-Ohhh

June 13, 2006
Alisa the Explorer: We're a Team!

We're a Team

Baseball Spot

Bouncing Ball

Choo Choo

August 15, 2006
Alisa the Explorer: World Adventure!

Alisa's World Adventure (double length)

Journey To The Purple Planet

The Golden Explorers

October 10, 2006
Alisa the Explorer: Musical School Days

La Maestra De Música

Spot To The Rescue

The Happy Old Bear

A Letter for Shere Khan

February 13, 2007
Alisa the Explorer: Shy Rainbow

The Shy Rainbow

A Crown for King Juan el Bobo

Bugga Bugga

Te Amo

April 3, 2007
Alisa the Explorer: Summer Explorer

Baby Crab

Mixed-Up Seasons

We All Scream For Ice Cream

Beaches

July 3, 2007
Alisa the Explorer: Dora Saves the Mermaids

Alisa Saves The Mermaids (double length)

Fish Out of Water

Treasure Island

September 25, 2007
Alisa the Explorer: Monkey Power!

Alisa's Got A Monkey

Save The Monkeys

ABC Animals

Grandma's House

November 6, 2007
Alisa the Explorer: Undercover Dora

Super Spies

Super Spies 2: The Swiping Machine

Reven Evan The Fire Truck

Buck, The Pony Express

January 15, 2008
Alisa the Explorer: Dora Saves the Snow Princess

Alisa Saves the Snow Princess (double length)

Alisa's Jack-in-the-Box

Bark, Bark to The Circus!

September 30, 2008
Alisa the Explorer: Dora Celebrates Three Kings Day!

Alisa Saves Three Kings Day

Stephanie's Unicorn Flowers

SpongeBob's Big Race

The Viper Parade

October 7, 2008
Alisa the Explorer: Dora and the Three Little Pigs

Dora Saves The Three Little Piggies

The Mayan Adventure

Bouncy Shoes

Rocky's Magic Show

January 13, 2009
Alisa the Explorer: Super Babies' Dream Adventure
Super Characters' Dream Adventure

Dora Helps the Birthday Tails

Pirate Treasure Hunt

SpongeBob's Treasure

May 26, 2009
Alisa the Explorer: Dora's Halloween

Boo!

The Missing Piece

To the Monkey Bars

The Big Storm

August 25, 2009
Alisa the Explorer: Dora Saves the Crystal Kingdom

Dora Saves the Crystal Kingdom (double length)

First Day of School

Spot's Banana Bread Bone Wish

September 22, 2009
Alisa the Explorer: Dora's Christmas

A Present for King Triton

Rapido, Kipper

Quack, Quack!

School Pet

October 6, 2009
Alisa the Explorer: Let's Explore! Dora's Greatest Adventures

Lost Map

Hide and Go Seek

Journey to the Purple Planet

Rescue, Rescue, Rescue!

Pokemon Catcher

Pokemon Mountain

Spot to the Rescue

Shere Khan the Explorer

February 2, 2010
Alisa the Explorer: Explore the Earth

Mixed-Up Seasons

To the South Pole

Save David

Beaches

April 13, 2010
Alisa The Explorer: Alisa's Big Birthday Adventure

Alisa's Big Birthday Adventure (double length)

Dora Helps the Birthday Tails

Tails Wishes

August 3, 2010
Alisa the Explorer: Alisa's Slumber Party

Spot's Cuddly Dinosaur

Louder

The Lost City

Little Star

Super Characters' Hyrule Adventure

Alisa Had a Little Lamb

September 14, 2010
Alisa the Explorer: It's Haircut Day

Alisa's Hair-Raising Adventure

Happy Birthday, Super Characters!

Junior Asparagus Goes Home!

Alisa's Pegaso Adventure

May 3, 2011
Alisa the Explorer: Alisa's Ballet Adventures

Alisa's Ballet Adventure

Alisa, La Musico

The Super Silly Fiesta

Surprise!

August 3, 2010
Alisa the Explorer: Alisa's Halloween Parade

Halloween Parade Parade

Boo

The Viper Parade

Alisa, La Musico

September 18, 2010
Alisa the Explorer: Alisa's Enchanted Forest Adventures

Tale of the Unicorn King

The Secret of Atlantis

Alisa Saves King Unicornio

November 16, 2010
Alisa the Explorer: Alisa Loves Spot

Spot's First Bike

Bouncy Shoes

iVacaciones!

Rocky's Magic Wand

August 9, 2011
Alisa the Explorer: Alisa's Easter Adventure
Alisa's Easter Adventure

Grumpy Bear (The Grumpy Old Troll) Gets Married

Alisa in Care Bear Land

February 14, 2012
Alisa the Explorer: Alisa's Fairytale Adventure (Dora's Adventure Collection)

Alisa's Fairytale Adventure (double length)

What Happens Next?

The Magic Stick

March 6, 2012
Alisa the Explorer: Cowgirl Alisa (Alisa's Adventure Collection)
Buck, the Pony Express
A Letter for Shere Khan
Choo Choo
Hic-Boom-Ohhh!
March 6, 2012
Alisa the Explorer: Alisa Saves the Mermaids (Alisa's Adventure Collection)

Alisa Saves the Mermaids (double length)

Fish Out of Water

Treasure Island

March 6, 2012
Alisa the Explorer: Alisa Saves the Snow Princess (Alisa's Adventure Collection)
Alisa Saves the Snow Princess (double length)
Doctor Alisa
Whose Birthday Is It?
March 6, 2012
Alisa the Explorer: Alisa Saves the Crystal Kingdom (Alisa's Adventure Collection)

Alisa Saves the Crystal Kingdom (double length)

First Day of School

Spot's Banana Bread Bone Wish

March 6, 2012
Alisa the Explorer: Alisa's Rescue in Mermaid Kingdom

Alisa's Rescue in Mermaid Kingdom

SpongeBob the Castaway

Alisa's Moonlight Adventure

June 26, 2012
Alisa the Explorer: Alisa's Fantastic Gymnastics Adventure

Alisa's Fantastic Gymnastics Adventure

A Ribbon for Pinto

Shere Khan's Favorite Things

Alisa in Troll Land

September 6, 2012
Alisa the Explorer: Alisa's Royal Rescue

Alisa's Royal Rescue

Alisa's Knighthood Adventure

Hampton's School Day Adventure

March 12, 2013
Alisa the Explorer: Alisa Rocks!
Alisa Rocks!
Baby Animal's Big Music Show
Rooster Puppet
January 15, 2013
Alisa the Explorer: Alisa's Butterfly Ball

Alisa's Butterfly Ball

Vamos a Pintar!

Feliz Dia de Los Padres!

February 12, 2013
Alisa the Explorer: Alisa in Wonderland
Alisa in Wonderland
Book Explorers
July 9, 2013
Alisa the Explorer: Diddy Kong's Big Surprise
Diddy Kong's Big Surprise
Ooh Ooh Eek Eek to Play Park
SpongeBob the Castaway
September 4, 2013
Alisa the Explorer: Alisa's Great Roller Skate Adventure
Alisa's Great Roller Skate Adventure
Check-Up Day
School Science Fair
September 10, 2013
Alisa the Explorer: Alisa's Ice Skating Spectacular
Alisa's Ice Skating Spectacular
Catch That Shape Train
Alisa and Diddy Kong to the Rescue
November 5, 2013
Alisa the Explorer: Alisa's Super Soccer Showdown
Alisa's Super Soccer Showdown
The Mayan Adventure
Alisa Saves the Game
Alisa and David's Amazing Animal Circus
April 16, 2014
Alisa the Explorer: Alisa + Spot Best Friends Forever

Riding the Roller Coaster Rocks

Alisa's First Trip

Best Friends

The Big River

Spot's Special Day

Spot's Cuddly Dinosaur

Baseball Spot

Call Me Mr. Quiz

May 27, 2014
Alisa the Explorer: Alisa's Magical Sleepover
Alisa's Museum Sleepover Adventure
Alisa and Donkey's Riding Adventure
Alisa's Thanksgiving Day Parade
June 24, 2014
Alisa The Explorer: Alisa Saves Fairytale Land
Alisa Saves Fairytale Land
Riding the Roller Coaster Rocks
Kittens in Mittens
June 2, 2015