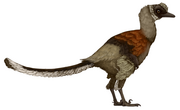 Almas is a genus of troodontid theropod dinosaur from the Late Cretaceous of Mongolia. It contains a single species, Almas ukhaa, named in 2017 by Pei Rui and colleagues, based on a partial articulated skeleton. The only known specimen was found in the Djadochta Formation, which is late Campanian in age.
Community content is available under
CC-BY-SA
unless otherwise noted.