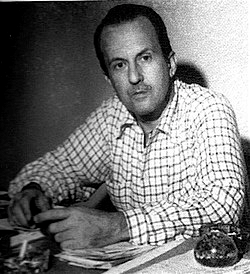 Aloysio de Oliveira (December 30, 1914 – February 4, 1995) was a Brazilian record producer, singer, actor and composer.
Key figure in the internationalization of Brazilian popular music, Aloysio de Oliveira participated in all the Carmen Miranda career abroad, with the "Bando da Lua" musical ensemble he founded in 1929 with Hélio Jordão Pereira, Afonso Osório, Stênio Osório, Armando Osório, Osvaldo Éboli, Ivo Astolfi, Diego Astolfi and some cousins of the latter whose names are not remembered for a total of 12 people. With the death of Carmen in August 1955 the group disbanded. Back in Brazil, Aloysio directed the command of Odeon Records, then created the "Elenco", producing dozens of disks and launching important names of bossa nova as Tom Jobim.
Roles
Narrator/Aquarela do Brazil soloist - Saludos Amigos
Narrator/Vocal Chorus - The Three Caballeros
Jaq/The Grand Duke - Cinderella
Captain Hook/Narrator (uncredited) - Peter Pan
Tramp (1955 dub)/Tony (1955 dub, singing) - Lady and the Tramp
Narrator (uncredited) - Sleeping Beauty
Collie/Television Announcer - 101 Dalmatians
Narrator - The Sword in the Stone
Narrator (1965 dub, uncredited) - Snow White and the Seven Dwarfs
Alan A Dale - Robin Hood
Narrator (uncredited)/Tigger - The Many Adventures of Winnie the Pooh (featurette versions)
Narrator (1978 dub) - Fantasia
Trivia
During his early days at Disney, he would translate the lyrics into Brazilian Portuguese for the early Disney Animated Canon films, but he would be replaced by Carlos Alberto Ferreira Braga for the remainder of the 1940s until 1955, where he returned to his lyicrist job at Disney, where he contined to serve under that position until 1973, he also had some acting roles in some of the Brazilian dubs of the Disney Animated Canon (especially during the mid-1950s to the 1970s), but due to his lyricist duties, this often meant that some of his acting roles in the Disney Animated Canon would go uncredited.
Community content is available under
CC-BY-SA
unless otherwise noted.