uranimated18's TV Spoof of Barney and the Backyard Gang in YouTube near in the future in very "kindly" honor of Bob West for voice acting as Barney the Dinosaur. It is also a part of the other upcoming events: Alvin & Friends and Alvin's Great Adventure.
Cast
Episodes
The Backyard Show (Pilot)

Three Fantastic Wishes

A Day at the Beach

Waiting for Santa Claus

Alvin's Campfire Sing-Along

Alvin Goes to School
Videos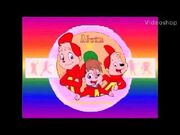 Trivia:
This series will be produced with 8 episodes.
Jason (Jimmy Pocaya) will be in The Backyard Show to A Day at the Beach, and so will Mike and Carol.
Jefferey (Matthew, Dwayne and Steve) will only be in Campfire Sing-Along.
Gallery