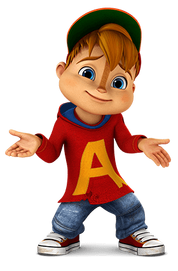 Alvin Seville is the protagonist of the 1980s American musical TV series The Alvin Show in the Alvin and the Chipmunks-related franchise and one of The Chipmunks and the titular protagonist of the series and movies. He is the leader of the group as well as the self-proclaimed "awesomest" one. Alvin greatly relishes his role as band front man and his antics and ego regularly get him and his brothers (sometimes even Dave Seville) into trouble.
Alvin played Larry the Cucumber in several CartoonTales episodes
Alvin played Barney the Dinosaur in Alvin & Friends (TV Series)
Alvin played Scooby Doo in Alvin Doo Series
Alvin played Darien/Tuxedo Mask in Sailor Brittany
Alvin played Little John in Tori Hood
Alvin played Captain Planet in Captain Alvin
Alvin Played Chief Powhatan In Tammyhontas
Alvin played John Smith in Rinihontas
Alvin Played Sum Gummi In The Advantures of the Gummi Chipmunks
Alvin Played Ash In Pokemon (143Movies Style)
Alvin played Eustace in Max the Cowardly
Alvin Played Zuba In Madgascar 2: Espace form (400Movies style)
Alvin Seville Played Renji In Bleach (1701Movies Animal style)
Alvin Seville Played Tsukino In Sailor Jeanette
Alvin Seville Played Norville Shag Rogers In Littlefoot Doo Series
Alvin Seville Played Sea-Star In Tori aka Spongebob
Alvin Seville Played Adams Family Dad In The Adams Family (1701Movies Animal Style)
He is a mouse and Cinderella's friend
He is a mouse and the male protagonist
He is a chinstrap penguin
Alvin played Naruto in Alvinruto
Alvin Played Sasuke Uchiha In Simonruto
Alvin Played Minato In ???? Shippuden
he is Naruto's Dad
Voice Actors:
Ross Bagdasarian Sr. - English
Ross Bagdasarian Jr. - English
Justin Long (CGI Films) - English
Tomiko Suzuki - Japanese
Rica Matsumoto - Japanese
Ikue Otani - Japanese
Masahito Kawanago (CGI Films) - Japanese
Ilaria Stagni - Italian
Emanuela Pacotto - Italian
Davide Perino - Italian
Gilan Shahaf - Hebrew
Liron Lev - Hebrew
Portrayals:
Gallery:
Poses
Trivia
His, Simon, and Theodore's appearances in the Stephen Squirrelsky and Friends' Movie Spoof Travels are Cub and Company, Hoodwinked!, Beauty and the Grizzly Bear, The Rescuers, Nikki's Adventures of Sing Along Songs Episode 4, The Rescuers Down Under, The Secret of NIMH, Nikki's Adventures of Sing Along Songs Episode 6, The Little Mer-Lioness 2: Return to the Sea, Skunkules, Home on the Range, Kermit's Winter Wonderland, The Little Jungle Boy, Kermiladdin 2: The Return of McLeach, AiAi the Monkey and A Day for George, The Reindeer and the Deer, Animal Story 2, AiAi the Monkey's Grand Adventure: The Search for Tails, A Cartoon Character's Life, Nikki's Adventures of Sing Along Songs Episode 7, Here Comes Winnie the Pooh, Animals, Inc, Simba 2, Miss Bianca and the Bernard 2: Fievel's Adventure, FernGully: The Last Rainforest, A Pooh in Central Park, Bubblesrella 2: Dreams Come True, The Brave Little Piglet, Kung Fu Owen, Nikki's Adventures of Sing Along Songs Episode 8, The Thomas O'Malley Movie, Kermit Returns, Fievel the Red Nosed Mouse and The Island of Misfits, Nikki's Adventures of Sing Along Songs Episode 9, Cloudy with a Chance of Meatballs, The Forest Book 2, Nikki's Adventures of Sing Along Songs Episode 10, Sleeping Beauty, Aurorastasia, Despicable Me (Justin Quintanilla's Style), and We're Back!: A Jungle Animal's Story and will even be in more movie spoof travels.
Community content is available under
CC-BY-SA
unless otherwise noted.