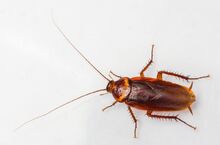 Both male and female
American cockroaches
(
Periplaneta americana
) can fly. The wings develop when the roaches become adults. American cockroaches normally live outdoors. They prefer warm, damp areas like flowerbeds, and under mulch. In many parts of the United States people call them "palmetto bugs" because they live on trees. American cockroaches are very common in sewer systems of many American cities. American cockroaches enter homes to find water or food. They can easily pass under doors if the weather stripping is damaged. Basement windows and garages are also common entryways. When American cockroaches enter homes, they often go to bathrooms, kitchens, laundry rooms and basements. Outdoors, American cockroaches eat leaves, tiny wood particles, fungi and algae. They also eat small insects. Indoors, American cockroaches forage under appliances, in drains, in kitchen cabinets and on the floor. They eat crumbs, scraps of food and spilled food that they find. They will also eat pet food that is left out overnight.
Roles
Gallery
Books
See Also
Community content is available under
CC-BY-SA
unless otherwise noted.