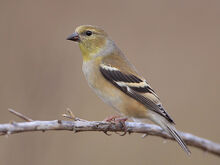 This handsome little finch (Spinus tristis), the state bird of New Jersey, Iowa, and Washington, is welcome and common at feeders, where it takes primarily sunflower and nyjer. American goldfinches often flock with Pine Siskins and Common Redpolls. Spring males are brilliant yellow and shiny black with a bit of white. Females and all winter birds are more dull but identifiable by their conical bill; pointed, notched tail; wingbars; and lack of streaking. During molts they look bizarrely patchy.
Gallery
Books
See Also
Community content is available under
CC-BY-SA
unless otherwise noted.