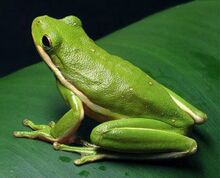 The American green tree frog (Hyla cinerea) is a common species of New World tree frog belonging to the genus Hyla. A common backyard species, it is popular as a pet, and is the state amphibian of Georgia and Louisiana. The frog is green, medium-sized, and up to 6 cm (2.5 in) long. Their bodies are usually green in shades ranging from bright yellowish-olive to lime green. The color can change depending on lighting or temperature. Small patches of gold or white may occur on the skin, and they may also have a white, pale yellow, or cream-colored lines running from their jaws or upper lips to their groins. They have smooth skin and large toe pads. Their abdomens are pale yellow to white. Males have wrinkled throats (indicating the vocal pouch) and are slightly smaller than females.
Roles
Gallery
Books
See Also
Community content is available under
CC-BY-SA
unless otherwise noted.