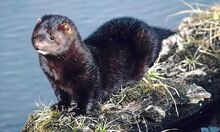 The American mink (Neovison vison) is a medium-sized, semi-aquatic mustelid with a long, slender body and relatively short legs. Its tail is less than half the length of its head and body, and its short, rounded ears barely project above its fur. The American mink's fur is soft and luxurious, with a thick, warm layer of underfurand longer, oily guard hairs which make the coat water-resistant. The feet are fully furred, except for on the toe tips and pads, and the toes are webbed at the base. The American mink's glossy fur is usually dark brown to black, often with white patches on the chin and throat and sometimes also white spots on the chest and belly. However, this species has been selectively bred in captivity and many different colour variations have been produced. These colour variations can sometimes be seen in escaped, feral individuals, and can range from white to grey, yellowish-brown or black. Although the male and female American mink are similar in appearance, the male is usually slightly larger and heavier than the female. A number of subspecies of American mink have been described. In parts of Europe, where the American mink is an introduced, non-native species, it can easily be confused with the native European mink (Mustela lutreola). However, the European mink can generally be distinguished by its smaller size and by the more extensive white patch on its upper lip. A voracious predator, the American mink eats a wide variety of prey and will store any surplus to eat later. The American mink has been highly prized for its soft, luxurious fur, and has often been bred in fur farms. Escaped or released American mink have established populations outside of the species' natural range, often threatening native wildlife.
Roles
Gallery
Is a Crocodile a Reptile?
Books
Also See
Community content is available under
CC-BY-SA
unless otherwise noted.