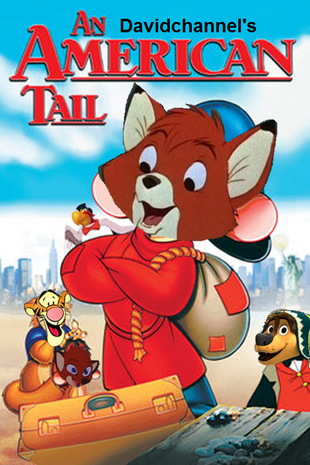 Davidchannel's movie-spoofs of Don Bluth's 1986 animated film 
An American Tail.
Cast:
Fievel Mousekewitz - Tod (Young; The Fox and the Hound)
Tanya Mousekewitz - Rita (Go Hugo Go!)
Yasha Mousekewitz - Claudette (Alpha and Omega)
Papa Mousekewitz - Winston (Alpha and Omega)
Mama Mousekewitz - Eve (Alpha and Omega)
Tiger - Tigger (Winnie the Pooh)
Warren T. (Rat) - King Voracious (The Foxbusters)
Warren T. (Cat) - Tai Lung (Kung Fu Panda)
Tony - Balto
Bridget - Iago (Aladdin; 1992)
Henri - Jeremy (The Secret of NIHM)
Honest John - Bodi (Rock Dog)
Gussie Hausheimer - Darma (Rock Dog)
Digit - Sheldon J. Plankton (Spongebob Squarepants)
Moe - Farley (Chalotte's Web 2: Wilbur's Great Adventure)
Wave Monster - Hexxus (FernGully: The Last Rainforest; 1992)
Cats - Various Villains Felines in Movies
Gallery:
See Also
Community content is available under
CC-BY-SA
unless otherwise noted.