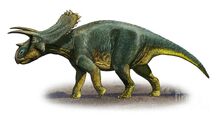 Anchiceratops
 (/ˌæŋkiˈsɛrətɒps/ 
ANG-key-SERR-ə-tops
) is an extinct genus of chasmosaurine ceratopsid dinosaur that lived approximately 72 to 71 million years ago during the latter part of the Cretaceous Period in what is now Alberta, Canada. 
Anchiceratops
 was a medium-sized, heavily built, ground-dwelling, quadrupedal herbivore that could grow up to an estimated 5 m (16.4 ft) long. Its skull featured two long brow horns and a short horn on the nose. The skull frill was elongated and rectangular, its edges adorned by coarse triangular projections. About a dozen skulls of the genus have been found.
Gallery
Community content is available under
CC-BY-SA
unless otherwise noted.