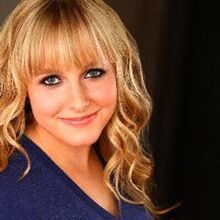 Andrea Eva Libman (born July 19, 1984) is a Canadian actress, voice actress, pianist, and singer, whose most popular on-screen appearances are in Little Women, Andre and a guest-role on The X-Files. She is also known for providing voice for characters in various animated shows, most notably the characters Pinkie Pie and Fluttershy in My Little Pony: Friendship is Magic.
Voices:
Pinkie Pie and Fluttershy - My Little Pony: Friendship is Magic
Harmony Bear - Care Bears
Madeline - Madeline Lost in Paris
X-23 - X-Men Evolution
Emmy - Dragon Tales
Cylindria - Pac-Man and the Ghostly Adventures
Lemon Meringue - Strawberry Shortcake's Berry Bitty Adventures
Rainbow Twilight Brite - The Powerpuff Girls' Adventure
Roll - Megaman: Upon a Star
Gallery:
Community content is available under
CC-BY-SA
unless otherwise noted.