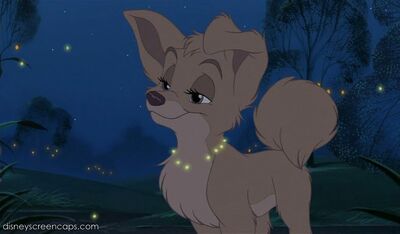 She is a main deuteragonist and Scamp's girlfriend in Lady and The Tramp 2.
She is a Avatar
She played Young Tigress in Kung Fu Wolf
She is a Tigress Cub
She played young Amara in Tramp & The Forty Thieves
She is a prince's daughter
She is an alien street urchin
She is a cruel Fire Nation princess
She is a orphan girl who can search for her parents
She is a cub
She is a Princess
She is a octopus cub
She is Wendy's Second Dog
She is Phineas's Girlfriend
She is a Little Girl
She is Alan's Girlfriend
She is a white kitten
She is Clemont's sister
She is a Yzma
She is a lioness cub
She Played Swan In The Puppy Princess
She is Odette's Swan Form
She is a girl
She is a cute Powerpuff Girl
She is a Rososaur
She played Hope Van Dyne in Ant-Dog
She is the daughter of Hank Pym.
She is an ant
She is a Pegasus pony
She played Abby Mallard in Scamp Little
She is a duckling
She is a fraggle
She played Ducky in The Land Before Time (??? Style)
She is a swimmer
She is a Pegasus pony
She is a iguana
She is a mouse
Relatives:
Adoptive Father-Charlie B. Barkin
Adoptive Mother-Sasha Le Fleur
Adoptive Grandfather-Thunderbolt
Adoptive Grandmother-Dixie
Gallery:
Community content is available under
CC-BY-SA
unless otherwise noted.