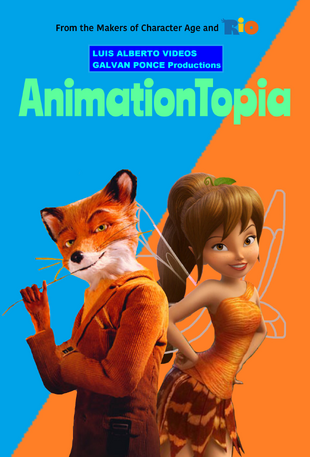 a spoof of Zootopia.
Cast
Judy Hopps - Fawn (Disney Fairies)=(Voice-Actress-Refrence and Sharing with J.B. Eagle)
Nick Wilde - Mr. Fox (Fantastic Mr. Fox) (Both Foxes)
Chief Bogo - Valiente (Ferdinand)
Leodore Lionheart - Shrek
Yax - Blu (Rio)
Mrs. Otterton - Jailbreak (The Emoji Movie)
Dawn Bellwether - Mrs. Tweedy (Chicken Run)
Gazelle - Mavis (Hotel Transylvania)
Benjamin Clawhauser - Cody Maverick (Surf's Up)
Officer McHorn - Boog (Open Season)
Bonnie Hopps - Dolly (Toy Story 3)=(Voice-Actor-Refrence) (Sharing with J.B. Eagle)
Stu Hopps - Nolan (UglyDolls)
Duke Weaselton - Randall Boggs (Monsters, Inc.)
Mr. Big - Duke (The Secret Life of Pets)
Fru Fru - Gidget (The Secret Life of Pets)
Gideon Grey - Roddy (Flushed Away)
Flash - Victor Van Dort (Corpse Bride)
Priscilla - Victoria Everglot (Corpse Bride)
Jerry Jumbeux Jr. - Manny (Ice Age)
Doug - Kron (Dinosaur)
Finnick - Swifty (Arctic Dogs)
Dharma Armadillo - Dottie (Planes)
Nangi -
Travis - ???
Gallery
Community content is available under
CC-BY-SA
unless otherwise noted.