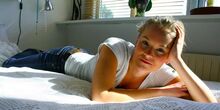 Annevig Sifka Schelde Ebbe (born August 6, 1983) is a Danish actress and voice actor from Aarhus, Denmark. She contributes to acting Danish language dubbing. She dubs characters from cartoons, movies, anime, and more. She also played Mary Jensen in the DR 1 canceled mini series The Kingdom. She dubs Stacy Hirano,Vanessa Doofensmirtz, and other characters from Phineas and Ferb. She is the current Danish dubber of May, and Dawn from Pokémon.
Voices:
May, Dawn - Pokemon
Mindy - Animaniacs
Bloom - Winx Club
Stacy Hirano, Vanessa Doofensmirtz - Phineas and Ferb
Mac - Foster's Home for Imaginary Friends
Sabrina Spellman - Sabrina: The Animated Series
Sarah - Ed, Edd n Eddy
Clover - Totally Spies
Images:
Gallery:
Community content is available under
CC-BY-SA
unless otherwise noted.