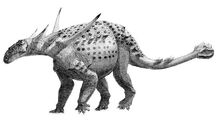 Antarctopelta (meaning 'Antarctic shield') was a genus of ankylosaurian dinosaur with one known species, A. oliveroi, which lived in Antarctica during the Late Cretaceous Period. It was a medium-sized ankylosaur, reaching no more than 4 meters (13 ft) in length, and showed characteristics of two different families, making more precise classification difficult. The single known fossil specimen was discovered on James Ross Island in 1986, constituting the first dinosaur remains ever discovered on Antarctica, although it is the second dinosaur from the continent to be formally named.
Gallery
Community content is available under
CC-BY-SA
unless otherwise noted.