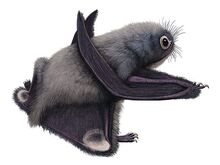 Anurognathus
is a genus of small pterosaur that lived during the late Jurassic Period (Tithonian stage).
Anurognathus
was first named and described by Ludwig Döderlein in 1923. The type species is
Anurognathus ammoni
. The genus name
Anurognathus
is derived from the Greek
an-
("without"),
oura
("tail"), and
gnathos
("jaw") in reference to its unusually small tail relative to other "rhamphorhynchoid" (i.e. basal) pterosaurs. The specific name
ammoni
honours the Bavarian geologist Ludwig von Ammon, from whose collection Döderlein had acquired the fossil in 1922.
Gallery
Walking With Dinosaurs: A Natural History
Community content is available under
CC-BY-SA
unless otherwise noted.