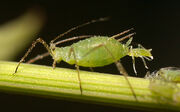 Aphids are small sap-sucking insects and members of the superfamily Aphidoidea. Common names include greenfly and blackfly, although individuals within a species can vary widely in color. The group includes the fluffy white woolly aphids. A typical life cycle involves flightless females giving living birth to female nymphs without the involvement of males. Maturing rapidly, females breed profusely so that the number of these insects multiplies quickly. Winged females may develop later in the season, allowing the insects to colonize new plants. In temperate regions, a phase of sexual reproduction occurs in the autumn, with the insects often overwintering as eggs.
Gallery
Is a Crocodile a Reptile?
Books
Community content is available under
CC-BY-SA
unless otherwise noted.