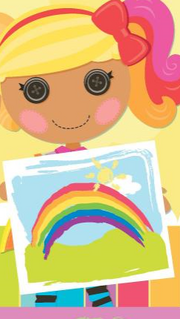 April Sunsplash is Lalaloopsy Land's rainy enthusiast. She is a very optimistic and energetic girl who loves everything about springtime! April is bright and happy, and she can usually be found playing in the rain. She has a very positive view of the world and her personality shines brighter than the sun! After a rainy day, when you see a rainbow in the sky, that's when her true colors really shine through...brightly! Her name is based off of the month where it rains quite often as well as a sunny day.
About April
Appearance
April is a light brown skinned girl with black eyes. She has yellow, gold, red, and neon-purple colored hair worn on a side ponytail with a red bow and headband. Her bangs curl just a bit but stays out of her face. Her cheeks are bright-pale pink.
April wears a cute sleeveless pink top with a dark pink neck attached to a translucent, smooth material with orange lining, matching her thin orange belt on the top of her umbrella shaped skirt with each segment a color of the rainbow. She also wears purple pantyhose with lighter purple polka dots and black and blue striped leggings. Her shoes resemble soft-green rain boots with white on her the tips of her shoes and neon-purple straps.
Pet
April's pet is a pink toucan! There is a yellow stripe before its red beak, and the tip of its beak is pink.
Home
April Sunsplash full poster Her home is a yellow house with a red roof, a multicolored slats, a multicolored lower roof and a rainbow umbrella on the top. The path to her house was a trail of puddles.
Trivia
April 3rd is National Find a Rainbow Day.
She shares her birthday with Streamers Carnivale.
April is the first, and so far, the only Lalaloopsy with a side ponytail.
Her name was originally April Sunshine before MGAE changed it, because there was already a *Lalaloopsy with that last name, Sprouts Sunshine.
She is often seen wearing red heart sunglasses as her mini and Girls dolls sport them.
Community content is available under
CC-BY-SA
unless otherwise noted.