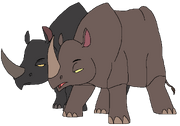 Archie and Ross are two mean Indian rhinoceroces from the upcoming FOX TV-series, Animal World.
Apperance
Archie is black with a brown horn, and Ross is pink with a yellow horn, they are Greater Indian rhinos with shields and plates all over their skin.
Personallity
Archie and Ross are always mean, gruff and hide. They always bonk each other on their horns.