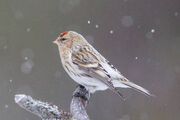 The Arctic redpoll is similar in appearance to the common redpoll but generally paler. It may be distinguished from that species by the unstreaked pale rump patch and the uniformly pale vent area. The Greenland race is a very large, pale bird, with the male sometimes described as a "snowball", but both forms are pale with small beaks, white rumps and often more yellow than grey-brown tones in their plumage. They have black bibs, orangish forehead patches and two light-coloured stripes on each wing. The females are more streaked on their breasts, sides and rumps, but are still pale. Adults are about 12 to 14 centimetres (4.7 to 5.5 in) in length and weigh about 12 to 16 grams (0.42 to 0.56 oz).
Gallery
Community content is available under
CC-BY-SA
unless otherwise noted.