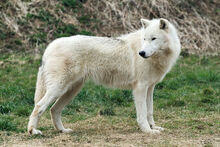 The Arctic wolf (Canis lupus arctos), also known as the Melville Island wolf is a possible subspecies of gray wolf native to the Canadian Arctic Archipelago, from Melville Island to Ellesmere Island. It is a medium-sized subspecies, distinguished from the northwestern wolf by its smaller size, its whiter coloration, its narrower braincase, and larger carnassials. Since 1930, there has been a progressive reduction in size in Arctic wolf skulls, which is likely the result of wolf-dog hybridization. The Arctic wolf is relatively unafraid of people, and can be coaxed to approach people in some areas. It has occasionally acted aggressively toward humans. Otto Sverdrup wrote that during the Fram expedition, a pair of wolves attacked one of his team-mates, who defended himself with a skiing pole. In 1977, a pair of scientists were approached by six wolves on Ellesmere Island, with one animal leaping at one of the scientists and grazing a cheek. A number of incidents involving aggressive wolves have occurred in Alert, Nunavut, where the wolves have lived in close proximity to the local weather station for decades and become habituated to humans.
Roles
Gallery
Books
Community content is available under
CC-BY-SA
unless otherwise noted.