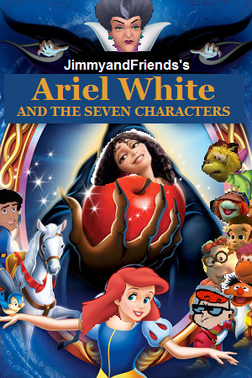 Jimmyandfriends's movie-spoofs of "Snow White and the Seven Dwarfs". It appeared on YouTube on April 19, 2016.
Cast:
Scenes:
Opening Credits/Prologue
Lady Tremaine's Teddy Bear
Ariel Meets Eric ("I'm Wishing/One Song")
Lady Tremaine's Dark Demand
In the Woods/Ariel Runs Away
Ariel's Forest Animals ("With a Smile and a Song")
Ariel Discovers a Cottage
"Whistle While You Work"
Meet the Characters ("Heigh-Ho")
Ariel Explores Upstairs
The Characters Return Home
Searching the Cottage (Part 1)
Searching the Cottage (Part 2)
The Characters Discover Ariel
Ariel Meets the Characters
Supper Not Ready Yet
"Bluddle-Uddle-Um-Dum (The Characters' Washing Song)"
Deceived/Lady Tremaine Disguised Herself
"The Characters' Yodel Song (The Silly Song)"
"Someday My Prince Will Come"
Bedtime at the Characters' Cottage
Mother Gothel's Evil Plan
The Characters Leave For Work
Ariel Meets Mother Gothel
A Race Against Time
Ariel's Death and Funeral
True Love's First Kiss/Happily Ever After
Gallery:
Community content is available under
CC-BY-SA
unless otherwise noted.