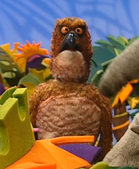 Armstrong the Chicken Hawk was a co-host of The Animal Show. During season 1, he mostly hung out with Ollie the Tapir; after the first season, Bunnie Bear became his cohost. The grumpy Armstrong is usually the straight man/victim in these team-ups.
Bio
Hometown: Aerborial territories of the world
Age: 6 years old (chicken hawk age)
Personality: Straight man, victim, grumpy, stubborn, picky co-host for "That's Amazing," "Animal Awards," and "Habitat Time." He's also a bird expert.
Appearance: Brown chicken hawk with yellow eyes, a black beak, tan throat and underbelly, and white feet with talons.
Occupation: Co-Host of "The Animal Show."
Goal: Aside from helping Ollie and Bunnie with hosting their segments, wanting to go to his habitats.
Gender: Male
Alignment: Good
Family: Grandpa Winthrop (grandfather), Dizzy Chicken Hawk (cousin), Great Uncle Metheuselah Chicken Hawk (uncle), Morty (cousin), Uncle Ahab Chicken Hawk (uncle), Chester (cousin), Teensie Hawk (nephew), Horace (cousin), Shecky Hawk (uncle), Uncle Stretch Chicken Hawk (uncle), Uncle Arnold Schwarzenhawk (uncle)
Friends: Ollie the Tapir, Bunnie Bear, Stinky the Skunk, Jake the Polar Bear, Yves St. La Roach, Tizzy the Bee, Rhonda Rat, Dullard the Aardvark, Lawrence the Orangutan
Enemies: Ernie the Mongoose (formerly)
Likes: Birds
Dislikes: Going to wherever Ollie or Bunnie chose which habitat to go to for "Habitat Time."
Powers and Abilities:
Favorite TV Show: "As the Worm Turns"
Favorite Candy: Chawky-Hawkies
Voice Actor
Gallery
Community content is available under
CC-BY-SA
unless otherwise noted.