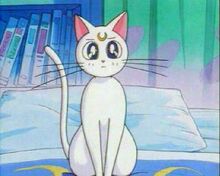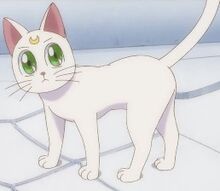 Artemis is white cat in Sailor Moon.
Also Known For Stephen Squirrelsky
He is Comquateater, Julimoda, and Diana's father.
Voice Actors:
Ron Rubin (DIC/Cloverway) - English
Johnny Yong Bosch (VIZ Media) - English
Yasuhiro Takato - Japanese (Original)
Kappei Yamaguchi - Japanese (Live-Action)
Yohei Obayashi - Japanese (Crystal)
Pietro Ubaldi - Italian

Antoine Nouel

- French
Marcelo Campos - Portuguese
Cristina Cavalinhos - Portuguese
Zvika Fohrman - Hebrew
He played Goofy in

Sonic and the Beanstalk (PokemonFan Style)
He is always a goofy
He is a hornbill
He is a blue genie
He is a green diesel
He is a red male chicken
He is a purple dinosaur
He is an android
He is a robot
He played Zoboomafoo in

Artemis (Zoboomafoo)
He is a lemur
He is a Pokemon Trainer
He played Max goof In The Spirit of Alvin and The Tiger Movie
He is Goofy's Son
He Played Theodore Seville
He Is a Chipmunk
He is a Duelist
He is a Sheriff toy
He Played Milo James Thatch In Atlantis (400Movies)
He Played Scooby Dooby Doo In
He Played Nigel Thorberry In

The Wild Thorberrys Movie (170Movies Style)
He is a ????
He played Mr. Jinks in

Chip & Dale (Pixie & Dixie)
He Played Drew In

Pokemon Advanced Generation (1956Movies Animal Style)
He is May's Main Rival
He will play

Goh Hideki/Ultraman Jack

in

Return of Ultrafeline (Ultracat Artemis)

.
He is Ultraman Jack's human host.
He will play

Hovernyan

in

Creature Watch: The Movie

.
He is a heroic cat Yokai and Nathaniel's friend.
Portrayals:
Gallery: