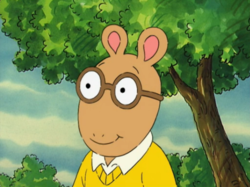 Arthur Read is the main/titular character in the show of same name.
An anthropomorphic aardvark who lives in the town of Elwood City, with residential classmates, friends, neighbors, educators, authority figures, and his family. Looking at the perspective of each companion and how they revolve around Arthur who is the main character, living a modest day of his life. They live a different direction, separate from him. D.W. and the preschoolers is alternate version of how his sister lives.
Trivia
Arthur's favorite color is yellow.
Arthur is a fan of Bionic and Dark Bunny.
His birthday is May 25th.
His bedtime is at 10:00pm.
He has a dog, Pal.
Arthur's full name is Arthur Timothy Read.
He has two little sisters, DW and Kate.
Gallery
Main article: Arthur Read/Gallery