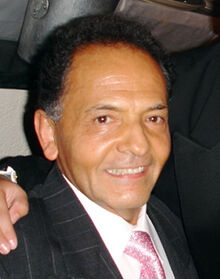 Arturo Mercado Chacón (born September 7, 1940) is a notable Mexican voice actor. He has dubbed many television and movie characters in Spanish for the Latin American movie and television market since 1963. He is the father of Arturo Mercado Jr., who is also a voice actor.
Voices:
Gopher - Winnie the Pooh shorts (1966, 1968, and 1983)
Chinese Cat - The Aristocats
Nutsy - Robin Hood
Luke and The Chairmouse - The Rescuers
Cricket Cook and Red - The Rescuers Down under
Adult Copper - The Fox and the Hound
Gopher and Wooster - The New Adventures of Winnie the Pooh
Nutsy - Robin Hood
Dale and Snout - Chip 'n Dale Rescue Rangers
Beast - Beauty and the Beast
Shaggy Rogers, Scrappy Doo - Scooby Doo
Mack - Cars
Serena's Dad - Sailor Moon
Fidget - The Great Mouse Detective
Scrooge McDuck - DuckTales
Darkwing Duck and Bushroot - Darkwing Duck
Hunch - Rock-A-Doodle
Jimmy Durante - Frosty the Snowman
Andy Foley (Aka The Beast of Evil), Pick, Whip Mazur and Master Router
Swinburne/Secretary Bird/Colonel Heller - Bedknobs and Broomsticks
Bert/Mr. Dawes Sr - Mary Poppins
Bob - Bob the Builder
Steve, Bruce, Eddy, Father Godzilla, Father Werewolf, Father One-Eyed Monster - The Monster Clubhouse
Bill Chad Dawson Jollyland - The Powerpuff Girls' Adventure (demo dub)
Community content is available under
CC-BY-SA
unless otherwise noted.