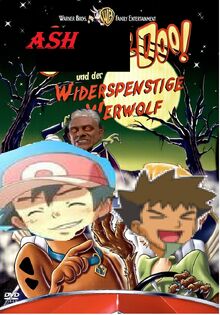 1701Movies' movie-spoof of Scooby Doo and the Reluctant Werewolf (1988). It will appear on YouTube in the near future.
Cast:(Don't Touch it)
Scooby Doo - Ash Ketchum (Pokemon)
Shaggy Rogers - Brock (Pokemon)
Scrappy Doo - Max (Pokemon)
Googie - Misty (Pokemon)
Count Dracula - Judge Doom (Who Framed Roger Rabbit)
Vanna Pira - Jessica Rabbit (Who Framed Roger Rabbit)
Werewolf Shaggy - Himself
Brunch - Jasper
Crunch - Horace
Frankenstein - Kronk
Repulsa - Gothel
Swamp Thing - ???
Witch Sisters - The three witches black cualdron
Mr. Bone Jangles - Himself
Mummy - Horned King
Dr. Jekyll - Buster
Mr. Snide - Steele
Dragonfly - ???
Quotes:
Judge Doom: Very well. If you drive in the race and win, I'll change you back to your simpering, normal, nerdy self.
???: You will?
Judge Doom: And I'll send you and your boys, and your tootsie wootsie back where you came from.
Ash Ketchum: Really?
Max: No lie?
Misty: You promise?
Judge Doom: Trust me.
???: Look. It's going back.
Ash Ketchum: Yeah. Back.
Misty: Oh. Thank goodness.
Trivia:
This is an NTSC spoof.
This is the third time to use the Pokemon Advanced Challenge theme at the beginning.
This is like a Pokemon movie, but without May and Pikachu, and with Misty.
Gallery: