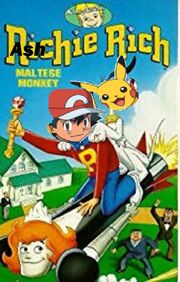 1961Movies TV spoof of Richie Rich (1980-1984). It will appear on YouTube in the near future.
Cast:
Richie Rich - Ash (Pokemon)
Dollar - Pikachu (Pokemon)
Gloria Glad - Raye Hino (Sailor Moon)
Reggie Van Dough - Nathan (Alvin and the Chipmunks)
Cabury - Brock (Pokemon)
Mr. Rich - Professor Oak (Pokemon) 
Mrs. Rich - Delia Ketchum (Pokemon)
Professor Keenbean - Merlin (The Sword in the Stone)
Irona the Robot Maid - Miss Miller (Alvin and the Chipmunks)
Mayda Munny - Misty (Pokemon)
See Also:
Intro
Gallery
Community content is available under
CC-BY-SA
unless otherwise noted.