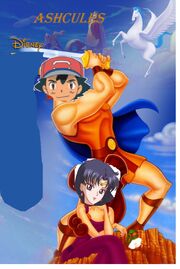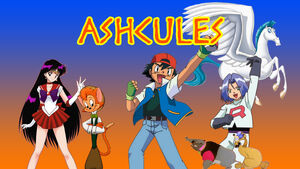 Luke Yannuzzi's movie-spoof of Hercules (1997). It will appear on YouTube in the near future to celebrate the 20th Anniversary.
Cast:
Young Hercules - Mowgli (The Jungle Book)
Adult Hercules - Ash Ketchum (Pokemon)
Megara - Raye/Sailor Mars (Sailor Moon)
Philoctetes - Danny (Cats Don't Dance)
Pegasus - Himself
Zeus - Professor Oak (Pokemon)
Hera - Delia Ketchum (Pokemon)
Hades - James (Pokemon)
Pain & Panic - Carface and Killer (All Dogs Go to Heaven)
Hermes - Brock (Pokemon)
The Muses - Brittany, Jeanette, and Eleanor Miller (Alvin and the Chipmunks), Olivia Flaversham (The Great Mouse Detective), and Gadget Hackwrench (Chip 'n Dale Rescue Rangers)
Amphitryon - Mowgli's Father (The Jungle Book)
Alcmene - Mowgli's Mother (The Jungle Book)
Baby Hercules - Baby Tarzan (Tarzan)
Baby Pegasus - Himself
Nessus - Clayton (Tarzan)
Trailer/Transcript:
Trivia:
This is an NTSC spoof.
Cats Don't Dance, Pokemon, and Hercules were released in 1997.
Gallery:
Community content is available under
CC-BY-SA
unless otherwise noted.